---
Variety for all desires
and abilities
---
Join in the fun and adventure of riding ATV trails in South Dakota along the Missouri River at Talsma's Trail Park on the Trails End Ranch. The property has been in the Talsma family for three generations and continues to operate as a cattle ranch to this day. Jerry and Tina Talsma opened the ATV trail park in 2005 with several hundred acres of designated trails for all to enjoy. Trails range from easy to extreme, and include climbing hills, creek crossings, scenic river bluffs, deep brush, open prairies, and river bottom terrain. There are also several play areas where riders can kick up some mud. Talsma's is a family-oriented park and offers ample off-road trails for riders of all abilities.
---
COST-EFFECTIVE FUN
Park Pricing
---
DAILY RATES
ATVs & Dirt Bikes – $40 PER Machine
All Side-by-Sides – $50 PER Machine
Horses – $20.00 PER Horse
Mountain Bikes – $10.00 PER Bike
SEASONAL MEMBERSHIP
ATVs & Dirt Bikes – $325 PER Machine
All Side-by-Sides – $425 PER Machine
---
CASH ONLY PLEASE
Gift certificates available

Special rates for: Groups of 10 or more machines, multi-day passes, frequent customers
WE'VE GOT SOME BIG, BIG PLANS
2024 Special Events
---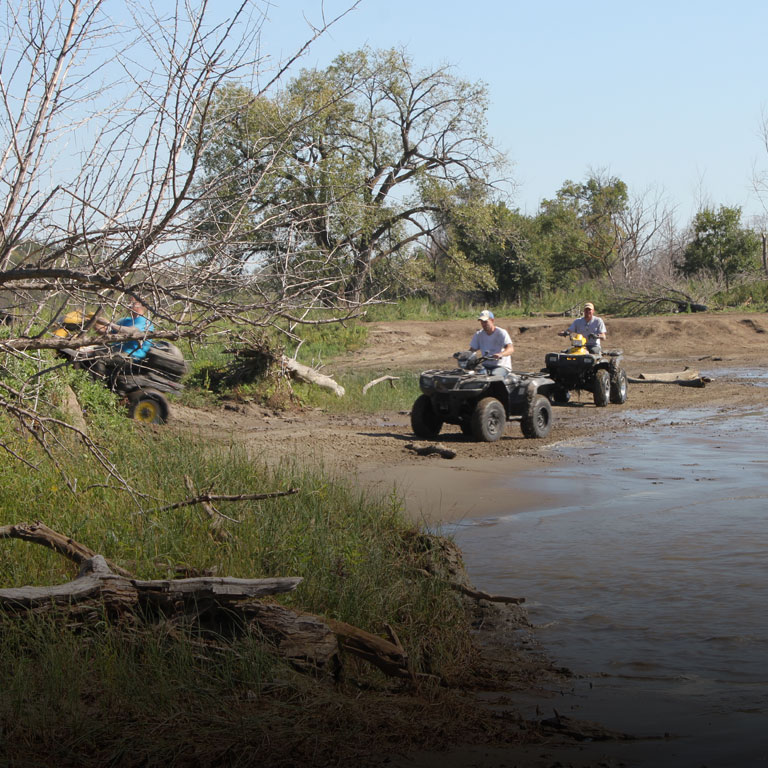 TOO MUCH FUN? WHAT'S THAT MEAN?
Park Guidelines
---
Anyone under 18 must be accompanied by a parent/guardian on the trails and is required to wear a helmet and eye protection
Rider must be 12 years old to operate their own age-appropriate machine
Pack out all garbage
No alcohol
No pets
No smoking
No littering
No hunting
No firearms
No glass
No campfires on trails
Signed Waiver of Liability REQUIRED
MUST STAY ON TRAILS
Things to Bring
---
Safety gear (goggles, helmets, gloves)
Food/Water – NO alcohol or glass
Tow straps
Machine repair tools and tire repair kit
Weather-appropriate clothing
Sunscreen
Insect repellent
Change of clothes
BUT WHAT ABOUT...
Frequently Asked
Questions
---

---
Are the trails wide enough for UTVs?
Yes, our cattle crossings are 80" in width. Not every (but nearly every!) trail will fit a UTV, but in those instances it won't, a bypass trail is available. Sorry, no Jeeps or Mahindra Roxors allowed.
---

---
Are riders required to wear helmets?
All riders under the age of 18 are required to wear a helmet and eye protection. Any riders 18 or older are not required to wear a helmet. Additionally, all riders are required to sign a waiver of liability.
---

---
Are there nearby accommodations?
We have limited campground sites on the premises for $20 per night with electricity, $10 without. There is a porta potty, but there are no shower facilities. A hydrant is available to fill, but there is no dump station. Reservations are required. Here is a list of other local accommodations.
---

---
I'm a first-time rider. Can I ride alone?
We have 3 different levels of trails with signage throughout the ATV park. You are welcome to ride at your own comfort level. A trail map will be provided upon check-in. Keep in mind riders must be 12 years old to operate their own age-appropriate machine and anyone under 18 must have eye protection, a helmet, and a parent/ guardian riding on the trails with them.
---

---
Do you rent ATVs/UTVs?
Talsma's Trail Park does not have any machines available for rent.
---

---
Is there a cc limit for machines in the park?
We do not currently have any cc restrictions within the park. We just ask that you use all of that power responsibly!
---
---
Went out for a full day's ride. Lots of variety within the trail system. Awesome views and super nice people that want you to have a great experience. Looking forward to another trip.
---
---
Cale S.
Facebook User Review
---
This place is awesome! It has trails everyone will enjoy from beginner to professional. If you want to take a leisurely ride out into the country and enjoy the scenery you can do that. OR if you want to go sideways, straight up, straight down, and get completely covered in mud you can do that. It is definitely worth spending a few hours here or packing a lunch and spending the entire day.
---
---
Michelle Y.
Google User Review
WE INVITE YOU TO CONTACT US
(605) 369-2401
---

---
Write a
message
to us